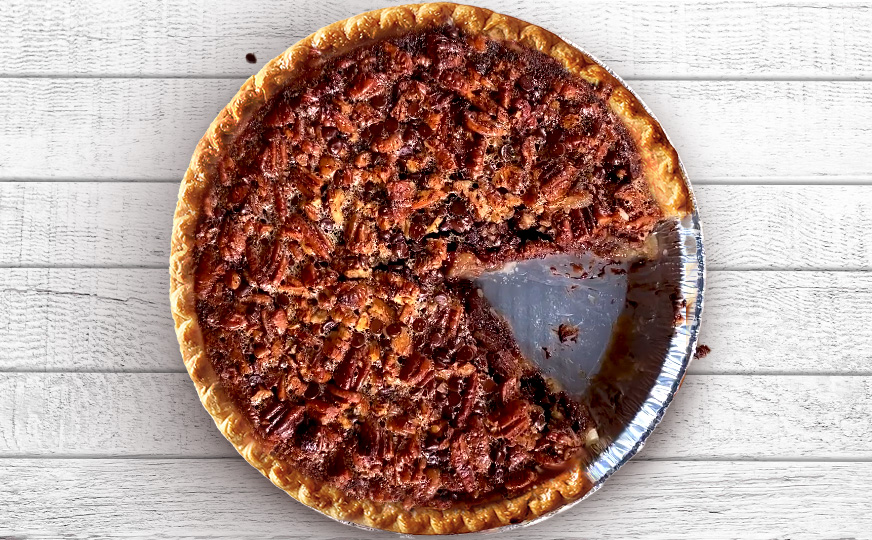 Recipe credit of NYT Cooking: https://cooking.nytimes.com/recipes/1023559-ina-gartens-bourbon-chocolate-pecan-pie
Ingredients
1/2

cup

Light Brown Sugar, Lightly Packed

1/2

cup

Granulated Sugar

1/2

cup

All-purpose Flour

1

tsp

Kosher Salt (Such As Diamond Crystal)

1/4

lb

(1 Stick) Unsalted Butter (melted and slightly cooled)

2

Extra-large Eggs

1

tsp

Pure Vanilla Extract

2 1/2

tbsp

Good Bourbon (Such As Maker's Mark)

1 1/4

cups

Semisweet Chocolate Chips (Such As Nestle's)

1

cup

Whole Pecans, Large-diced

Vanilla Ice Cream (for serving)
Instructions
Place an oven rack in the center of the oven. Heat the oven to 350 degrees.

Remove Wholly Wholesome Pie Shell from the freezer, and let thaw at room temperature for at least 10 minutes.

In a medium mixing bowl, combine the brown sugar, granulated sugar, flour and salt. In a smaller bowl, whisk together the butter, eggs, vanilla and bourbon. Pour the liquid ingredients into the dry ingredients and stir with a rubber spatula until combined. Stir in the chocolate chips and pecans.

Place the pie crust on a sheet pan lined with parchment paper and press a floured fork into the crimped edges to make the pie look more homemade. Pour the filling into the pie crust, and smooth the top. Bake for 35 to 40 minutes on the prepared rack until the filling is evenly golden brown on top and as firm in the middle as it is at the edges.

Transfer to a wire rack to cool completely. Serve in wedges with a scoop of vanilla ice cream.